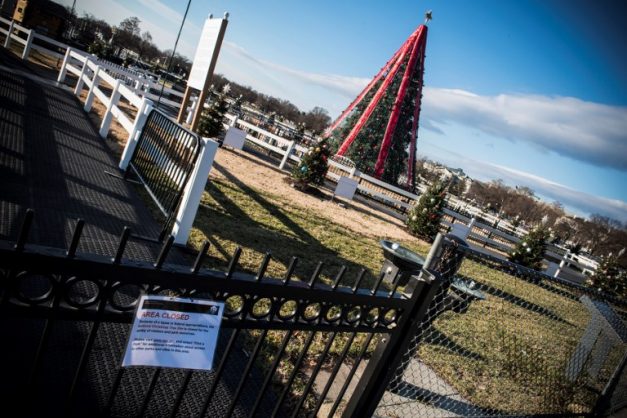 Both the House and Senate have adjourned until later in the week. Several Cabinet departments and agencies have been closed since Saturday after their funding lapsed.
The Capitol was quiet, after lawmakers went home with Congress still at an impasse over Trump's demands for billions of dollars to build a wall along the US-Mexico border.
A gate leading to public restrooms is locked at the Ellipse visitor centre near the National Christmas Tree that is now closed to the public due to the partial shutdown.
The President wrote on Twitter that "We are negotiating with the Democrats on desperately needed Border Security. but it could be a long stay". "So I think he will get what he wants and I think that's a good thing". "This is politics, not policy". "At some point the Democrats not wanting to make a deal will cost our Country more money than the Border Wall we are all talking about".
From coast to coast, the first day of the shutdown played out in uneven ways.
Some national parks have shuttered completely, but New York's governor provided funding to the Statue of Liberty monument and Ellis Island so those attractions could remain open.
Most critical United States security functions remain operational, but 800,000 federal workers are impacted, with many furloughed just days before Christmas while others deemed essential are working unpaid. Another 380,000 were to be furloughed, meaning they will not report to work but would be paid later.
Congress has always approved back pay for all federal workers after past shutdowns. Chuck Schumer (D-NY) during a speech on the Senate floor on Saturday.
"Listen, anything can happen", Senate Majority Leader Mitch McConnell told reporters after he closed the Senate's rare Saturday session hours after it opened. Richard Shelby, R-Ala., chairman of the Appropriations Committee, said a quick end to the shutdown was "not probable".
Donald Trump has warned it could be "a long stay" as he negotiates with Democrats to end a partial U.S. government shutdown.
In 2013, the Tea Party Republicans forced the shutdown over the better judgment of GOP leaders like Speaker John Boehner.
House Republicans passed a spending bill that included an additional $5 billion for the wall last week, but the legislation is considered dead on arrival in the Senate where Democrats have said they would not support it.
Trump savored the prospect of a shutdown over the wall for months.
ASSOCIATED PRESS Border wall prototypes stand in San Diego near the Mexico US border, seen from Tijuana, Mexico.
Trump may be alone in more ways that one on Christmas Eve.
Schumer and Shelby have been having side discussions, but they don't appear to have yielded much progress given the differences between Schumer and the White House, the source added. But the senator's spokesman said they remained "very far apart" on a spending agreement.
"It's Christmas Eve and President Trump is plunging the country into chaos", Schumer and Pelosi said in a joint statement as the shutdown dragged through its third day.
Earlier in the week, leaders in both the Senate and House thought they had reached a deal that Trump would sign that contained less money for border security, only to watch the president, under pressure from conservatives, re-assert his demand for $5 billion at the last minute. Those departments that are still on the hook include State, Agriculture, Justice, Transportation, Treasury, Homeland Security, and Interior.
Those being furloughed included almost everyone at NASA and 52,000 workers at the Internal Revenue Service.
About 16,000 National Park Service employees - 80% of the agency's workforce - would also be placed on temporary leave of absence, and many parks would close.
Also still functioning will be the Federal Bureau of Investigation, the Border Patrol and the Coast Guard. Airports will continue operating.