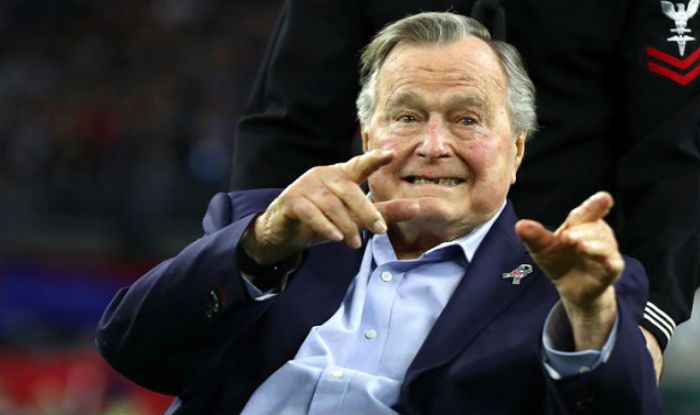 Donald Trump, Barack Obama and George W Bush have led tributes to George HW Bush, the 41st U.S. president who died on Friday at the age 94.
Donald Trump, the disruptive, anti-establishment president who spent years deriding much of what George H.W. Bush stood for, set aside differences in politics and temperament Saturday to honor the iconic American and former president a day after his death.
The announcement marked a reversal from earlier this year, when the president was pointedly not invited to the funeral of former first lady Barbara Bush, the family matriarch and the late president's wife of 73 years.
The former president, who served as a USA naval aviator during World War Two, had attended his wife's funeral in Houston in a wheelchair and wore a pair of colorful socks festooned with books, in honor of his late wife's commitment to literacy. There were tributes from both sides of the political aisle to Bush, who was president from 1989 to 1993 and lived longer than any of his predecessors.
It wasn't an easy job: when LIFE Magazine caught up with him, it was at the tense moment that the United Nations chose to admit "Red China" as a member in place of the Nationalist government based in Taipei.
Bush was outshone by Reagan in the 1980 Republican presidential primaries, denouncing the former Hollywood actor's neoliberal recipe of tax cuts and free markets as "voodoo economics". Dan Quayle of IN as his running mate, IN that year's presidential election.
His son, George W Bush, became the 43rd president of the United States.
He was the popular leader of a mighty coalition that dislodged Iraq from Kuwait, and was turned out of the presidency after a single term.
He was 94 and is survived by his five children and their spouses, 17 grandchildren, eight great-grandchildren, and two siblings.
When Bush accepted his party's nomination for president, he described America as "a brilliant diversity spread like stars, like a thousand points of light in a broad and peaceful sky".
Bush's eldest son, former President George W. Bush, issued a statement shortly after the announcement of his death.
He was not re-elected in 1992, which was attributed to breaking his pledge to not introduce new taxes. "On behalf of Texas, Cecilia and I offer our thoughts and prayers to the Bush family in their time of need". In 2005 he joined forces with Bill Clinton to tour and raise funds for regions devastated by the Asian tsunami and, closer to home in Louisiana, Hurricane Katrina, forming a close friendship with his former adversary.
After an $8.3 million renovation to the main exhibit on the life of Bush in 2007, the museum now features state-of-the-art audio guides, with the voices of George and Barbara Bush, as well as their daughter, Dorothy.