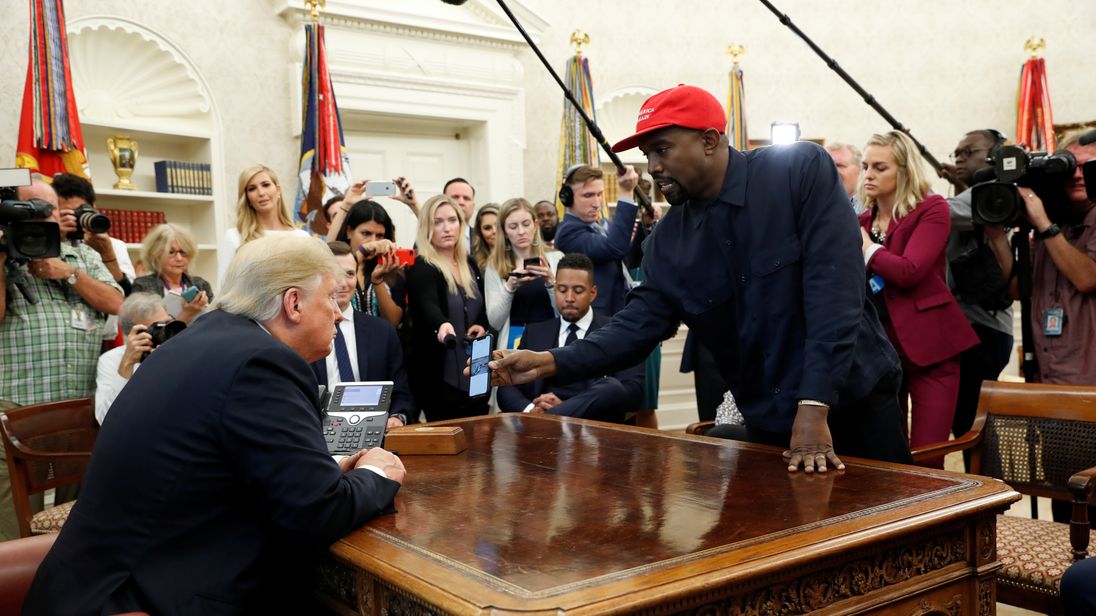 Vivian Salama, a White House correspondent for the Wall Street Journal, who was in the room for the meeting of the minds, tweeted that at one point West ran up to Trump to give him a hug, and also said that, as president, Trump has to be "the freshest" and "the flyest".
Kanye came to the White House clearly with a lot on his mind, chiefly his support for the president.
During a meeting with President Trump, Kanye West delivered animated and wide-ranging remarks on issues from the 13th Amendment to USA manufacturing.
The White House had said that Trump and West would discuss a range of issues, including manufacturing, prison reform, preventing gang violence and reducing violence in Chicago, which is where West grew up.
West was joined in the Oval Office by legendary football player and activist Jim Brown.
"Kanye needs help, this has nothing to do with being liberal or a conservative".
Said Lemon: "I have no animosity for Kanye West".
On a 68-year-old prisoner whose case he was raising with Trump: "Really, the reason why they imprisoned him is because he started doing positive for the community he started showing that he actually had power, he wasn't just one of a monolithic voice, that he could wrap people around".
Rose has always been opposed to Trump's politics, tweeting in September "We don't have a president".
His Apple store trip concluded, with him leaving and telling the crowd that he was going to Africa, presumably to record an album, as he told TMZ in early October that he would travel to Africa in the next couple weeks to complete his 9th studio album, "Yandhi". And they told me every time I said I liked Trump I couldn't say it out loud or my career would be over, I'd get kicked out of the black community because blacks are only supposed to have a monolithic thought, we can only be Democrats'.
West said a lack of "male energy" in the United States and in the Hillary Clinton campaign caused him to support Trump for President.
Kanye continued, saying "when I put this hat on, it made me feel like Superman ... that's my favorite superhero, and you made a Superman cape for me, also as a guy that looks up to you, looks up to American industry Gods..."
West also used the opportunity to applaud Mr Trump's efforts with North Korea and said he liked the country.
According to Jack Jenkins, a reporter for Religion News Service, West declared that he "made an updated hat that says "make America great" without the "again"...and Trump wore it!" Also attending is former National Football League great Jim Brown, a civil rights leader who has met with Trump previously. "We kill each other more than police officers".