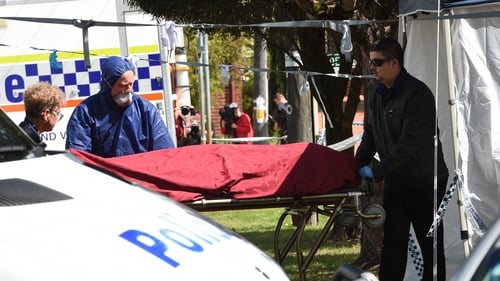 Asst Comm. Steel said "up to five" people were found dead, including women and children.
Cops went to the property in the northern suburb of Perth after a man visited a regional police station and told them about the scene.
A man in his 20s was helping police with their inquiries, he said, adding there was no danger to the public.
"The homicide squad now have teams of detectives on the ground, accompanied by specialist forensic police who are meticulously working their way through this crime scene".
Maria Manfredini, who lives at the property behind where the incident occurred, said she was shocked by the tragedy.
Police said there are no ongoing safety concerns for the community.
The Coode St address and surrounds have since been sealed off. Homicide detectives and forensic analysts have erected a pavilion on the street, near the intersection with Fort Street, as they initiate their investigations.
Mr Steel said it was still unclear how long the bodies had been at the house before they were discovered. Police would remain at the scene for a number of days and homicide squad officers would interview the man in custody.
"It's horrid to think that in such a attractive area, that's calm and so quiet, that something so tragic has taken place", she said.
Locals said a young family lived at the house, with an older woman visiting regularly.
"It will send a ripple through the community of Western Australia".
- Alice Murray 9 News (@AliceMurraych9) September 9, 2018BREAKING: there's a major crime scene in Bedford right now.
Mr Fairbrother said he understood the family may have been killed "sometime in the last week" but they had been overseas at the time.
"Up to five" bodies at the home in suburban Perth are believed to have been a mother, her children and their grandmother, news.com.au reported.
The incident comes just months after seven people were murdered at a home in Margaret River.
He also could not confirm the ages, genders and relationship of the deceased.
It was the worst mass shooting in Australia since the Port Arthur massacre in 1996, when 35 people were shot dead in Tasmania.