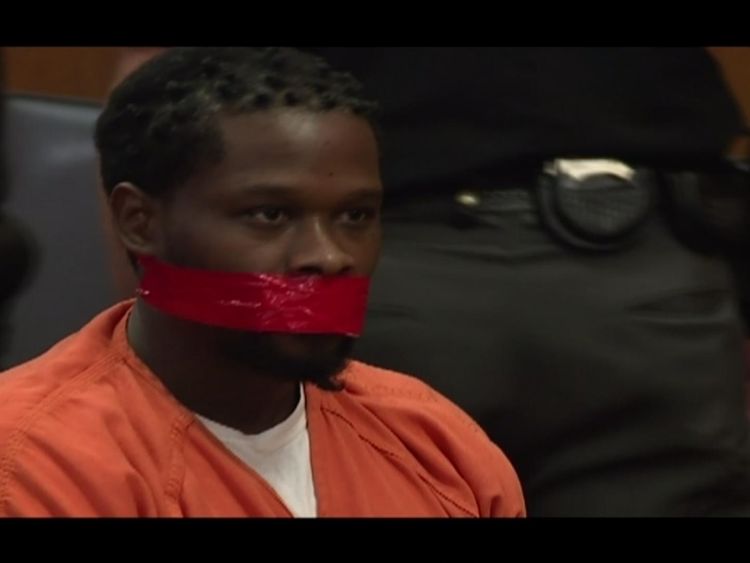 An Ohio judge ordered a defendant's mouth taped shut during a courtroom hearing, and a media outlet's video caught the scene of an officer duct-taping the man's face to silence him.
In the end, Williams, who was convicted of aggravated robbery, kidnapping, theft, misuse of credit cards and having weapons under a disability, was handed a 24-year prison sentence. He not only kept interrupting the judge, but also his own lawyer.
Williams continued to ignore the stern order, prompting Judge Russo to direct sheriff's deputies to tape him up until he had finished talking. In order to combat the chatty defendant, Russo ordered to have his mouth taped shut by six deputies.
According to Metro News, Williams continued to protest, saying: 'But you're not letting me tell you what's going on.
A black man was forced to have his mouth taped over because the judge presiding over his court case wanted to stop him from talking.
During his re-trial, Williams cut his ankle bracelet and disappeared, eventually turning up in Nebraska. "Do you understand what it means to, 'Don't talk?' Don't talk".
"I'm going to tape it, and I'll unzip it when I want you to talk", he said.
Video filmed inside the court shows Williams speaking as Ruso repeatedly tells him to be quiet, Fox8 reports.
The 32-year-old complained about authorities removing his possessions from his cell, and only meeting his attorney "the other day" - complaints Judge Russo said were raised at the wrong time. "That's what I was trying to tell them", Williams said. "Just zip it, you will get a chance to talk, I'm going to give you a chance to talk".
The court found that trial judges could "bind and gag him as a last resort, thereby keeping him present; (2) cite him for criminal or civil contempt; or (3) remove him from the courtroom, while the trial continues, until he promises to conduct himself properly", if a defendant was being disorderly.