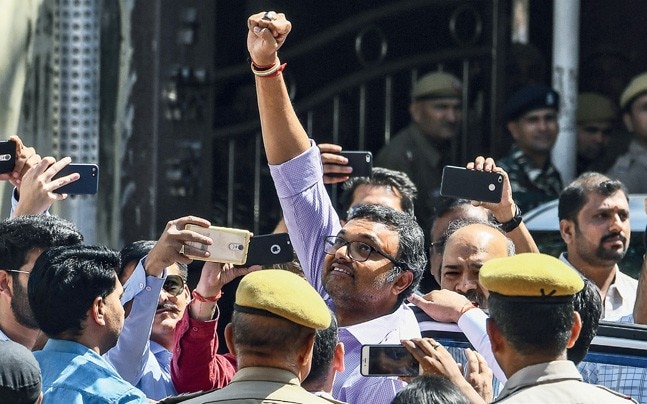 Karti Chidamabaram, son of senior Congress leader P Chidambaram, would be subjected to further custodial interrogation for three days by the CBI in connection with the INX Media corruption case, as a court here today extended his police custody till March 12 during which he will be confronted with his chartered accountant.
A Delhi Court on Friday extended Karti Chidambaram's CBI custody by another three days in connection with the investigation into the INX Media case after the probe agency claimed to have got incriminating materials revealing his "direct nexus" with the Advantage Strategic Consulting Pvt Limited. The agency can apply for yet another three days of police custody under the law, which allows 15 days of police remand.
Mehta said he was going to seek more time for filing a reply on the bail plea of Karti in the CBI court case against him.
In fresh raids conducted on March 7 and 8, the CBI said it recovered documents, including air tickets and mobile phone bills of Karti Chidambaram and his family members which were paid by Advantage Strategic Consulting Pvt Ltd (ASCPL), a company which has been a conduit for alleged bribes and with which Karti has denied any links.
A lookout notice issued by the Central Bureau of Investigation (CBI) on July 18 prevented Karti from travelling overseas without the investigating agency's permission.
Another application of the CBI, seeking to be Indrani Mukerjea and Peter Mukerjea, the then promoters of INX Media, to Delhi for the objective of investigation in the presence of the accused, was dismissed by the court after the agency did not press it.
Kartis father, P Chidambaram, and his mother Nalini Chidambaram, also a senior advocate, were present in the courtroom and were allowed to meet him for 15 minutes after the hearing.
The trial court order came hours after a HC bench of Justices S. Muralidhar and I.S. Mehta granted Karti interim protection from arrest till March 20. This is one of the primary reasons the CBI wants to confront Karti with other co-accused like his chartered accountant Bhaskararaman, who is lodged in Tihar jail, besides confronting him with material evidence to be able to elicit some information from him. They are inventing one. During the arguments in the court on Friday, Singhvi said Karti's blood pressure levels were fluctuating as he was not allowed to sleep till 2.30 am.
It is a ten-year-old case and all the documents are available with them, he said, contending, "They need my custody to harass me".
The bench asked Mehta "What if Karti is arrested by the ED as soon as he is released by the CBI from its custody?"