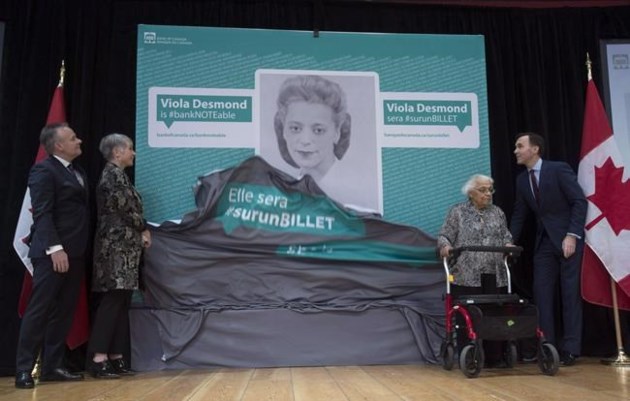 The bill features Viola Desmond, a human rights icon whom you might remember from a Heritage Minute (below, in case you don't).
The future $5 note will feature another iconic Canadian, and Canada's first Prime Minister, Sir John A. Macdonald, and our first francophone Prime Minister, Sir Wilfrid Laurier, will be honoured on our higher-value bank notes.
Desmond is the first African-American woman and the second woman in Canadian history to be placed on a currency. In 1946, at the age of 32, Desmond went to see a movie at the Roseland Theatre in Nova Scotia. Desmond, suffering from myopia and not seen anything from the back row, sat on one of the seats for whites and refused to leave.
The new bill also features a map of the Halifax North End community that supported Desmond, and the Canadian Museum For Human Rights building in Winnipeg.
Born in 1914, Desmond rose to prominence as an entrepreneur, selling her own line of hair and skin products at a time when few local beauty schools accepted black students.
"This change will take place when the higher-value notes are redesigned for the next series", said the Bank of Canada.
The bill, which also features an eagle feather and an excerpt from the Canadian Charter of Rights and Freedoms, was met by a standing ovation.
Wanda Robson, seeing her sister's $10 bill for the first time, gasped, remarking that the artist beautifully captured every detail of her sister, saying, "It's as if she's in this room".
She was dragged out of the theatre by police, arrested, thrown in jail for 12 hours and fined. Desmond died in 1965 and her act of defiance - which helped ignite Canada's civil rights movement as well as usher in Nova Scotia's legal end to segregation in 1954 - was overlooked for decades by many in Canada.
"Viola Desmond made a special act of courage", - said Isaac, Cain, senior lecturer at Dalhousie University.