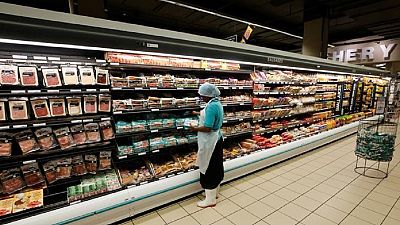 Motsoaledi also said that the department was investigating Rainbow products' processing site in the Free State.
Tiger Brands, which owns Enterprise, said in a statement on Sunday that a strain of listeria was detected in some Enterprise products on 14 February but the presence of the ST6 strain had not yet been identified at the time.
Retailers are disposing of all Enterprise and Rainbow Chicken products after the announcement today that they had traced the source of the Listeriosis outbreak to an Enterprise facility in Polokwane. In addition, all ready-to-eat products such as polony and Russian sausages manufactured at the Rainbow facility in Sasolburg were also being withdrawn.
"We are removing products that may be linked to the listeriosis outbreak from our stores".
Minister Motsoaledi says that polony samples tested positive for the disease.
Environmental Health Practitioners (EHPs), together with the National Institute of Communicable Diseases (NICD), and officials from the Department of Agriculture, Forestry and Fisheries (DAFF) had visited the food production site in Polokwane. It can contaminate a wide variety of food types, including meat and meat products, dairy products both unpasteurised and pasteurised, fresh and frozen produce and ready-to-eat products.
The minister said the National Consumer Commission had issued Enterprise Foods and RCL Foods with orders to recall their food products distributed locally or for export.
Two more facilities have also been singled out pending more tests to determine the sequence type. This is because Listeria on the exterior casing (packaging) of polony can be transferred to other products it comes into contact with, including viennas, russians, frankfurters, other sausages, and other "cold meat" products that are typically not cooked before eating.
National Consumer Commission deputy commissioner Thenzi Mabuza said "companies would have to come up with a plan on how they would recall all products which they must present on Monday morning". At a Spar in Newtown and a Pick n Pay in Witpoortjie, products belonging to the two brands implicated were still on the shelves. Keeping them among other products could cause cross contamination.
Most of the current cases have been in Gauteng province, which includes the cities of Johannesburg and Pretoria, with other cases concentrated in Western Cape and KwaZulu-Natal provinces. Recalled meat is being isolated and will be safely destroyed. A total of 659 patients involve the outbreak strain, and 180 of those died, constituting a 27 percent fatality rate.
The reported claim that the Grahamstown case was a result of drinking contaminated water (Sarah Baartman News) has not been confirmed and was strongly denied by Kupelo.
At this time, Grocott's Mail can not confirm an outbreak of listeriosis in Grahamstown.
"Obviously, it's also the cost of the recall, which is not just the food but the transportation and whole supply chain of bringing it back", he said.
Motsoaledi said polony was a definite source of the disease.
While Listeria can not be spread from one person to another, pregnant women and infants, as well as people with weakened immune systems, are at a higher risk of contracting it.