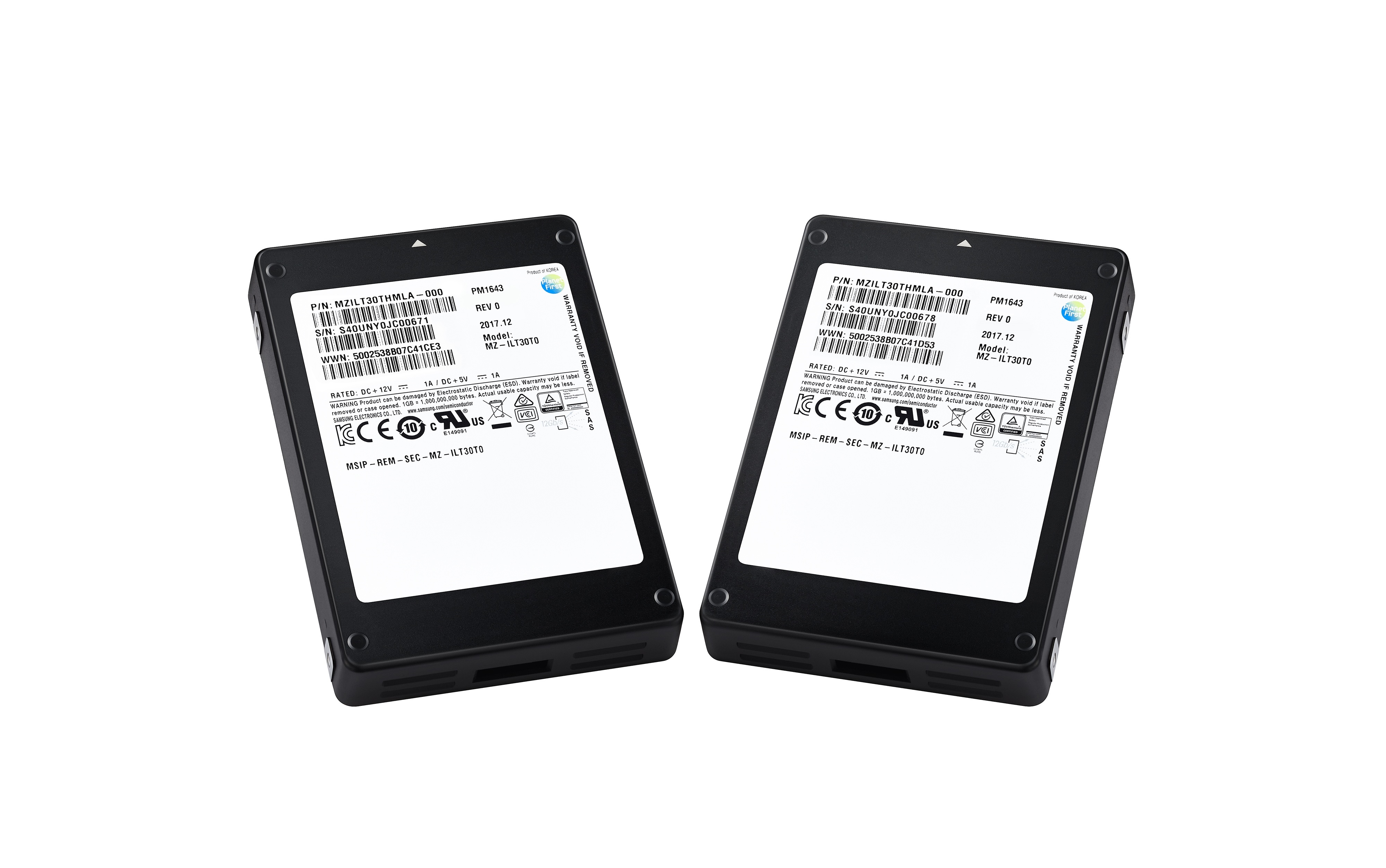 The PM1643, as it's called, combines 32 1TB NAND flash packages for a total capacity of 30.72 terabytes.
The new Serial Attached SCSI (SAS) drive offers impressive sequential read and write speeds of up to 2,100MB/s and 1,700 MB/s.
Samsung has launched the PM 1643 Solid State Drive (SSD) on Tuesday, with a capacity of 30.72 terabytes making it the world's largest SSD in terms of capacity. That's a massive boost over what you get from a good SATA SSD these days, such as the current-gen Samsung 860 EVO, which maxes out at speeds of 550MB/s (read) and 520MB/s (write).
Production of the 30.72 TB SSD kicked off last month, though Samsung plans to add to the family later in 2018. When compared to the previous generation SAS SSDs, the new drive delivered almost twice the performance.
Samsung executive VP of memory sales Jaesoo Han said that Samsung will "continue to move aggressively in meeting the shifting demand toward SSDs over 10TB".
Samsung also says that the design of its controller, DRAM packaging and associated software all contribute in the success of the drive. The company will be launching 16.36TB, 7.68TB, 3.84TB, 1.92TB, 960GB, and 800GB versions later this year; those smaller drives should be a lot more affordable, obviously.
Samsung has provided a new control architecture on its fresh enterprise SSD that integrates nine controllers from the previous high-capacity SSD range into a single package. This is notably the first time when an SSD has included a TSV-applied DRAM.
On the software/firmware side, the PM1643 supports metadata protection, data retention and recovery from sudden power interruptions, and an error correction code (ECC) algorithm that ensures high reliability and a minimum of required maintenance.
That's 40,000/50,000 R/W IOPS by the way and a mean time between failures of two million hours. This new drive offers nearly double of what it had launched about two years ago, a 15.36TB drive which at its time was the highest capacity SSD. This should help drive the growth of all-flash arrays and migration from HDDs to SSDs in the enterprise market, including industries such as government, financial services, education, healthcare, pharmaceutical, oil and gas, business services, communications services, and of course the ever-important social media platforms.