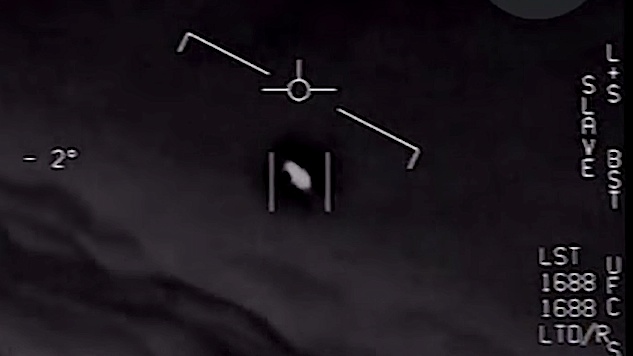 Politico said the programme is getting attention this year because of the October retirement of Luis Elizondo, a career intelligence official who ran the programme and reportedly told Defence Secretary James Mattis in his resignation letter that the department needed to take the programme's research more seriously.
Initial funding for the Advanced Aviation Threat Identification Program came largely at the request of former Democratic Senator Harry Reid, long known for his enthusiasm for space phenomena.
USA media has reported that the Pentagon had been in charge of a secret multi-million dollar programme which investigated Unidentified Flying Objects (UFOs).
The footage, released by the Advanced Aerospace Threat Identification Program, sees the pilots unable to identify a mysterious "fleet of UFOs".
Hoever, the Pentagon insists that the program ended entirely in 2012. Stevens, who was the chairman of the Appropriations Committee, claimed to have had an encounter with an unidentified object when he served in the US Air Force.
"It was determined that there were other, higher priority issues that merited funding, and it was in the best interest of the DoD to make a change", Pentagon spokesperson Thomas Crosson told the Times. The program's funding, Reid believed, should not have not been debated publicly in Congress.
According to the New York Times, the bulk of the $22M dollars actually went to a friend of senator Harry Reid. He's gone on to work on privately funded UFO research projects. The detailed account of the encounter was given by Chris Mellon, a former member of Senate Intelligence Committee, who is engaged in a new initiative, spearheaded by Elizondo, called To the Stars Academy of Arts & Science. It investigated sightings by military pilots of flying objects that "maneuvered so unusually and so fast that they seemed to defy the laws of physics", Politico reported. Elizondo told reporters that he did have a successor, though he couldn't name them. "I'm not embarrassed or ashamed or sorry I got this thing going", Mr. Reid said in a recent interview. He said the program was "one of the good things" he did while in office. "I've done something that no one has done before", Reid said.
"There was really nothing there that we could justify using taxpayer money", the unnamed official said.