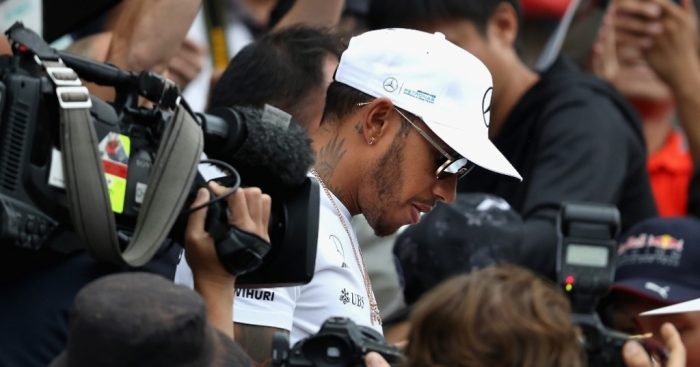 Lewis Hamilton held on to win the 2017 Japanese Grand Prix in Suzuka, despite being pushed hard in the final laps by Red Bull's Max Verstappen, whose team mate Daniel Ricciardo warded off Valtteri Bottas for the final podium place.
Vettel retired in Singapore and finished fourth in Malaysia, with Hamilton going P1 and P2 in those races to move 34 points clear heading into this weekend's Japanese Grand Prix.
Amid the commotion as Ferrari mechanics hurried to fix his spark plug problem on the starting grid before the race, Vettel missed the national anthem, earning himself a reprimand from the race stewards to add to the one imposed on him at the Monaco Grand Prix in May.
He did that by quickly opening up a 3-second lead on Verstappen in second place, despite two safety cars in the first 10 laps.
With Vettel out of the picture so early in the race, it was left to Red Bull to take the fight to Hamilton with Verstappen emerging ahead of teammate Daniel Ricciardo through the first corner to inherit second place from the Ferrari when it slowed.
Hamilton can clinch the title in the next race.
With Verstappen staying close to Hamilton all race, he finished second, just 1.2 seconds behind the victor.
"The team did an incredible job".
"I just have to keep my head down and keep doing what I've been doing", Hamilton said. "But from then on I had a good start and it was pretty much under control from there".
"All I can really say is that I have to put (the success) down to my team. I was always with Lewis and especially the last few laps we had great pace", he said.
Sebastian Vettel's title hopes crumbled after his Ferrari was forced into an early retirement as a result of more engine issues.
The formation lap went smooth, and soon as the lights went out Hamilton managed to hold Vettel off, the two were followed by Ricciardo and Verstappen. As I've said before, we know that the vehicle, the drivers and the team are all on the pace. Moments later Ocon was also passed by Bottas, who was the highest-placed driver to have started the race on soft tyres.
Race victor Lewis Hamilton: "We have had such a great crowd this week you always look after us so well and the support was enormous".
"I tried everything on the last run, I knew I had to take a bit more risk", he continued.
Fellow Finn Kimi Raikkonen, also struck by a gearbox-related grid penalty, was the sole-surviving Ferrari in fifth.
The Dutchman was all over Hamilton on the penultimate lap at Suzuka, as the race leader got bogged down lapping the squabbling Felipe Massa and Fernando Alonso.