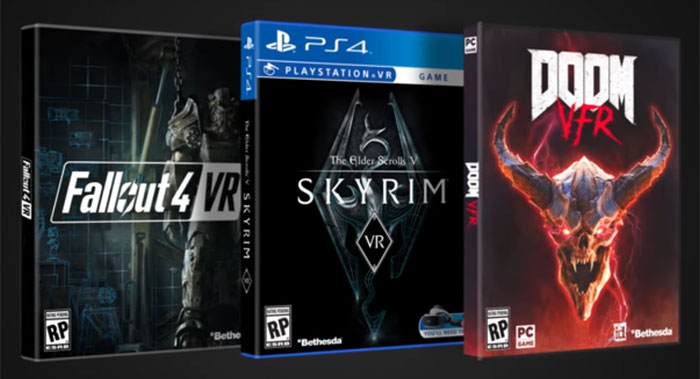 Bethesda wants you to stuff its biggest releases right in your face, and if you're going to QuakeCon 2017, you can try before you buy.
Bethesda has this week confirmed the release dates for its line of virtual reality makeovers which will take the form of Skyrim VR, DOOM VFR And Fallout 4 VR, following on from their previous announcement to make them available before the end of the year.
During E3, Bethesda declined to state the release date for either game, although it committed to a 2017 release window for all three titles.
Lastly, on December 1, Doom VFR will release on both PlayStation VR and HTC Vive. This might be the hardest cost upgrade to stomach for owners of Fallout 4's PC edition-as we can imagine an era in which someone would just, you know, mod VR functionality onto the existing FO4 PC codebase. The good news is that the PlayStation VR will get its version first, coming on November 17. You'll be able to enjoy them all before the year's over. This title is a brand new Doom experience made for VR.
At E3 earlier this year, Bethesda announced VR versions of several blockbuster games from its repertoire.
We've been waiting for these VR ports for quite some time. The reality of how this plays out remains to be seen for a few more months, however.
The decision by Bethesda to bring its post-apocalyptic RPG series into virtual reality (VR) generated much excitement. While we can probably expect Skyrim VR to remain exclusive to PSVR for some time, it seems likely that we'll eventually see it launch for other VR platforms like HTC VIVE and Oculus Rift.