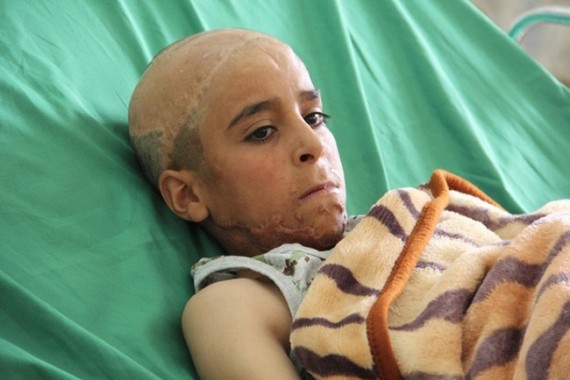 Another diplomat said however that "no progress" had been made on a joint declaration made in June by the UN Security Council, which called on all warring parties in Yemen to facilitate aid deliveries to the country.
The Saudi-led coalition had been named on the blacklist a year ago after the United Nations report blamed it for 60 percent of child deaths and injuries in Yemen in 2015 and half the attacks on schools and hospital.
Yemen, which is on the southern edge of the Arabian Peninsula, has been engulfed in civil war since September 2014, when Houthi Shiite rebels swept into Sanaa and overthrew President Abed-Rabbo Mansour Hadi's internationally recognized government. The Houthi movement denies the allegations.
While the report does not specify who is behind the air raids, the Saudi-led Arab military coalition allied with the government largely controls Yemen's airspace.
UN Secretary-General's Special Envoy for Yemen Ismail Ould Cheikh Ahmed told the Council via videolink that Yemen today continues to traverse a critical and agonizing period as civilians pay a bad price of an unending power struggle, adding that those who survive the fighting face death by starvation or disease as the economic situation continues to deteriorate and the humanitarian conditions worsen.
"In 2017, the number of air strikes per month is three times higher than a year ago, and monthly reports of armed clashes are up by more than 50 percent", he said. The United States regards al Qaeda in Yemen as one of the deadliest branches of the militant network.
O'Brien called for the opening of all ports, including land, sea and air, to civilian traffic to allow in aid, as well as for parties to the conflict to respect worldwide human and human rights law. The World Health Organization said Monday that the cholera outbreak has killed 2,000 people and infected an estimated 500,000.
"Those who survived cholera will continue to suffer the consequences of "political cholera" that infects Yemen and continues to obstruct the road towards peace", added Ould Cheikh Ahmed.
He said Egypt, Iran, Oman, Saudi Arabia, the United Arab Emirates, the Gulf Cooperation Council and the Arab League all supported his proposals and that he was hoping to meet with the Houthis outside of Yemen to discuss the possible deal.