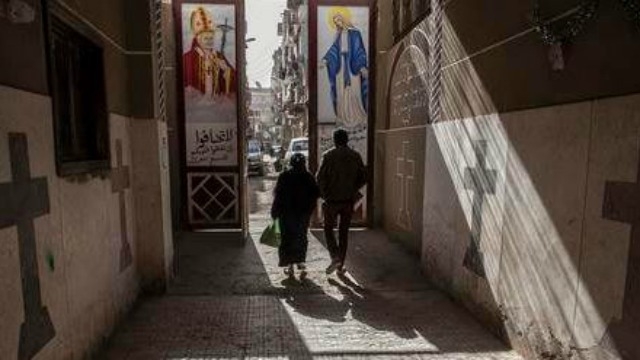 "Along with the report from its 'Amaq News Agency for the attack, the Islamic State (IS) issued a formal communique claiming credit for the killing of Coptic Christians in Minya, Egypt", read a report published on the group's website.
On Friday, Egyptian fighter jets struck eastern Libya just hours after a shooting that killed 29 and wounded 24 in the southern Egyptian province of Minya when masked militants boarded vehicles en route to a monastery and opened fire at close range.
Last month, two suicide bombings killed 45 Coptic Christians at churches.
"Egypt will never hesitate to strike terror bases anywhere", President Abdel-Fattah el-Sissi said in a televised address to the nation late Friday.
The air force loyal to Libyan military strongman Khalifa Haftar, who is backed by Egypt, on Saturday said it had participated in the strikes, describing them as "heavy in casualties".
Al Jazeera reported the locations targeted by Egyptian warplanes were civilian areas and populated districts inside the city.
Spokesman Fawzi Barhoum in a statement Friday called the shooting "an ugly crime", of which "the enemies of Egypt" are the only beneficiaries.
However, the extremist group was later chased from the city by local fighters and rival extremists.
The group changed its name to Al Wilayat Sinai (Province of Sinai) when it changed its allegiance in 2015 from al-Qaeda to the so-called Islamic State (IS or ISIS or ISIL or Daesh).
The Egyptian armed forces also released a short video that said the strikes hit terrorist gatherings in Libya "after confirming their involvement in planning and committing the terrorist attack in Minya governorate on Friday", according to Ahram Online.
'Terrorists are engaged in a war against civilisation, and it is up to all who value life to confront and defeat this evil, ' US President Donald Trump said in a statement.
On April 9, the bombers attacked St. George's Cathedral in Tanta, killing 29 people, and St. Mark's Cathedral in Alexandria, killing 18. According to Copts United news portal, only three children survived the attack.
The attack was also condemned by UN General Secretary António Guterres, who termed the act as "heinous" and "cowardly".
The attack came on the eve of the start of the Muslim holy month of Ramadan.
Though no one immediately claimed responsibility for the attack, it had all the hallmarks of Egypt's Islamic State affiliate.
Coptic Christians make up about 10% of Egypt's population of 91 million.
Pope Francis, who visited Egypt in April, sent a message to Sisi saying he was "deeply saddened to learn of the barbaric attack".