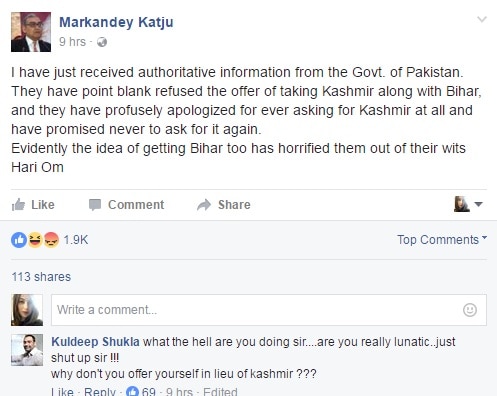 "You have to take the whole package, or none at all", Justice Katju posted. We offer you Kashmir, but on the condition you also take Bihar.
"The soldiers of Bihar laid down their lives in the recent #UriAttack.I heard people saying so, but its confirm that it's not Amitabh Bachann who has nothing in his head, its not the Indians 90% of whom are fools, but its you who are one trying his best to remain in news.You should join AAP", an FB user wrote. "I respect Biharis. Bihar has made a big contribution...it has seen great men like Gautam Buddha, Chandragupta Maurya and Ashok", he said. Some even suggested that instead of Bihar, Pakistan should take Katju.
In another post, the 70-year-old Supreme Court judge wrote that the Pakistani government has "point blank refused the offer of taking Kashmir along with Bihar, and they have profusely apologised for ever asking for Kashmir at all and have promised never to ask for it again". He later said that Biharis don't know how to take a joke, that "they have no sense of humour". Bharatiya Janata Party (BJP) spokesperson Vinod Narayan Jha said Katju's comment was beyond offensive and he should be charged with sedition for his anti-Bihar rant and arrested immediately. Terming the comments as "serious", he also demanded an inquiry to ascertain if Katju was "entrapped among anti-nationals out to destroy India's sovereignty and integrity".
Neeraj Kumar on Tuesday said he has lodged an FIR against Katju as his comment hurt 10.5 crore Biharis, living in the state, in India and overseas. "We are proud of Bihar and our roots here".
Deputy Chief Minister Tejaswi Yadav also took strong exception to Katju's comment saying, Bihar may be lacking in resources but it did not give Katju a free hand to humiliate the state. "The state may be devoid of resources but it does not mean anyone can lambast it", Tejaswi countered in his tweet.